About Us
Spice Merchant is a Indian takeaway in Hove. Why don't you try our Sauces or Garlic Chilli Bazan Masala?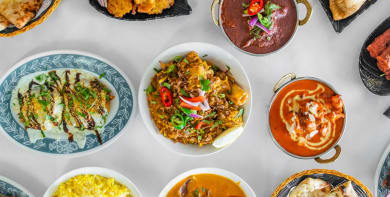 Reviews
478 reviews
Shaun
"Never go anywhere else for curry, always piping hot, massive portions and tastes amazing."
08/08/2020
Michael
"One of the best curries if had in at least 5 year's"
08/08/2020
Ruth
"Very charming delivery chap and food delicious!!!"
03/08/2020
Rosanna
"All the stars!!! Top food, top service, never late, best curry house in Brighton!xx"
03/08/2020
Menu
Tandoori Mixed Grill
Served with plain naan
£10.95
Garlic Ginger Tikka Balti
£8.95
Garlic Chilli Tikka Balti
£8.95
Garlic Chilli Mossalla Balti
£8.95
Tandoori Mixed Grilled Balti
£10.95
Spice Merchant Chef's Special Balti
Cooked with chef's own special secret recipe. Leave it to our experienced chef
£10.95
Tikka Naga Chicken
Madras hot
£8.95
Tikka Naga Lamb
Madras hot
£8.95
Mango Chicken Tikka Mossalla
£8.95
Mango Chicken Tikka Passanda
£8.95
Garlic Chilli Mossalla Chicken
Madras hot
£8.95
Garlic Chilli Mossalla Lamb
Madras hot
£8.95
Garlic Chilli Bazan Mossalla
£8.95
Garlic Chicken Tikka Bhuna
£8.95
Garlic Ginger Chicken Tikka Jalfry
£8.95
Curry Chicken
Medium spice, saucy dish with fresh green herbs & spices
£7.50
Curry Lamb
Medium spice, saucy dish with fresh green herbs & spices
£7.95
Curry Chicken Tikka
Medium spice, saucy dish with fresh green herbs & spices
£7.95
Curry Lamb Tikka
Medium spice, saucy dish with fresh green herbs & spices
£8.95
Curry Prawn
Medium spice, saucy dish with fresh green herbs & spices
£7.95
Curry King Prawn
Medium spice, saucy dish with fresh green herbs & spices
£9.50
Curry Fish
Medium spice, saucy dish with fresh green herbs & spices
£7.95
Curry Vegetable
Medium spice, saucy dish with fresh green herbs & spices
£6.95
Bhuna Chicken
A tasty dish cooked with slices of onion, spices & garnished with fresh tomato
£7.50
Bhuna Lamb
A tasty dish cooked with slices of onion, spices & garnished with fresh tomato
£7.95
Bhuna Chicken Tikka
A tasty dish cooked with slices of onion, spices & garnished with fresh tomato
£7.95
Bhuna Lamb Tikka
A tasty dish cooked with slices of onion, spices & garnished with fresh tomato
£8.95
Bhuna Prawn
A tasty dish cooked with slices of onion, spices & garnished with fresh tomato
£7.95
Bhuna King Prawn
A tasty dish cooked with slices of onion, spices & garnished with fresh tomato
£9.50
Bhuna Fish
A tasty dish cooked with slices of onion, spices & garnished with fresh tomato
£7.95
Bhuna Vegetable
A tasty dish cooked with slices of onion, spices & garnished with fresh tomato
£6.95
Dopiaza Chicken
Fresh, well seasoned onions cooked with spices to produce a rich, medium hot taste
£7.50
Dopiaza Lamb
Fresh, well seasoned onions cooked with spices to produce a rich, medium hot taste
£7.95
Dopiaza Chicken Tikka
Fresh, well seasoned onions cooked with spices to produce a rich, medium hot taste
£7.95
Dopiaza Lamb Tikka
Fresh, well seasoned onions cooked with spices to produce a rich, medium hot taste
£8.95
Dopiaza Prawn
Fresh, well seasoned onions cooked with spices to produce a rich, medium hot taste
£7.95
Dopiaza King Prawn
Fresh, well seasoned onions cooked with spices to produce a rich, medium hot taste
£9.50
Dopiaza Fish
Fresh, well seasoned onions cooked with spices to produce a rich, medium hot taste
£7.95
Dopiaza Vegetable
Fresh, well seasoned onions cooked with spices to produce a rich, medium hot taste
£6.95
Ceylon Chicken
A fairly spicy, hot dish cooked with coconut, coriander & coconut milk & cream
£7.50
Ceylon Lamb
A fairly spicy, hot dish cooked with coconut, coriander & coconut milk & cream
£7.95
Ceylon Chicken Tikka
A fairly spicy, hot dish cooked with coconut, coriander & coconut milk & cream
£7.95
Ceylon Lamb Tikka
A fairly spicy, hot dish cooked with coconut, coriander & coconut milk & cream
£8.95
Ceylon Prawn
A fairly spicy, hot dish cooked with coconut, coriander & coconut milk & cream
£7.95
Ceylon King Prawn
A fairly spicy, hot dish cooked with coconut, coriander & coconut milk & cream
£9.50
Ceylon Fish
A fairly spicy, hot dish cooked with coconut, coriander & coconut milk & cream
£7.95
Ceylon Vegetable
A fairly spicy, hot dish cooked with coconut, coriander & coconut milk & cream
£6.95
Korma Chicken
Mild, sweet & creamy, made with subtle spices
£7.50
Korma Lamb
Mild, sweet & creamy, made with subtle spices
£7.95
Korma Chicken Tikka
Mild, sweet & creamy, made with subtle spices
£7.95
Korma Lamb Tikka
Mild, sweet & creamy, made with subtle spices
£8.95
Korma Prawn
Mild, sweet & creamy, made with subtle spices
£7.95
Korma King Prawn
Mild, sweet & creamy, made with subtle spices
£9.50
Korma Fish
Mild, sweet & creamy, made with subtle spices
£7.95
Korma Vegetable
Mild, sweet & creamy, made with subtle spices
£6.95
Malayan Chicken
Mild, sweet & creamy dish, made with subtle spices, coconut, pineapple & coconut milk & cream
£7.50
Malayan Lamb
Mild, sweet & creamy dish, made with subtle spices, coconut, pineapple & coconut milk & cream
£7.95
Malayan Chicken Tikka
Mild, sweet & creamy dish, made with subtle spices, coconut, pineapple & coconut milk & cream
£7.95
Malayan Lamb Tikka
Mild, sweet & creamy dish, made with subtle spices, coconut, pineapple & coconut milk & cream
£8.95
Malayan Prawn
Mild, sweet & creamy dish, made with subtle spices, coconut, pineapple & coconut milk & cream
£7.95
Malayan King Prawn
Mild, sweet & creamy dish, made with subtle spices, coconut, pineapple & coconut milk & cream
£9.50
Malayan Fish
Mild, sweet & creamy dish, made with subtle spices, coconut, pineapple & coconut milk & cream
£7.95
Malayan Vegetable
Mild, sweet & creamy dish, made with subtle spices, coconut, pineapple & coconut milk & cream
£6.95
Kashmiri Chicken
Mild, prepared with coconut, fresh cream & fruit mix
£7.50
Kashmiri Lamb
Mild, prepared with coconut, fresh cream & fruit mix
£7.95
Kashmiri Chicken Tikka
Mild, prepared with coconut, fresh cream & fruit mix
£7.95
Kashmiri Lamb Tikka
Mild, prepared with coconut, fresh cream & fruit mix
£8.95
Kashmiri Prawn
Mild, prepared with coconut, fresh cream & fruit mix
£7.95
Kashmiri King Prawn
Mild, prepared with coconut, fresh cream & fruit mix
£9.50
Kashmiri Fish
Mild, prepared with coconut, fresh cream & fruit mix
£7.95
Kashmiri Vegetable
Mild, prepared with coconut, fresh cream & fruit mix
£6.95
Rogan Chicken
Prepared using pimento & garlic, garnished with tomatoes & green pepper. Medium spices & saucy
£7.50
Rogan Lamb
Prepared using pimento & garlic, garnished with tomatoes & green pepper. Medium spices & saucy
£7.95
Rogan Chicken Tikka
Prepared using pimento & garlic, garnished with tomatoes & green pepper. Medium spices & saucy
£7.95
Rogan Lamb Tikka
Prepared using pimento & garlic, garnished with tomatoes & green pepper. Medium spices & saucy
£8.95
Rogan Prawn
Prepared using pimento & garlic, garnished with tomatoes & green pepper. Medium spices & saucy
£7.95
Rogan King Prawn
Prepared using pimento & garlic, garnished with tomatoes & green pepper. Medium spices & saucy
£9.50
Rogan Fish
Prepared using pimento & garlic, garnished with tomatoes & green pepper. Medium spices & saucy
£7.95
Rogan Vegetable
Prepared using pimento & garlic, garnished with tomatoes & green pepper. Medium spices & saucy
£6.95
Dhansak Chicken
Cooked with onion in a thick sauce with lentils, sweet, sour & slightly hot. Garnished with lemon
£7.50
Dhansak Lamb
Cooked with onion in a thick sauce with lentils, sweet, sour & slightly hot. Garnished with lemon
£7.95
Dhansak Chicken Tikka
Cooked with onion in a thick sauce with lentils, sweet, sour & slightly hot. Garnished with lemon
£7.95
Dhansak Lamb Tikka
Cooked with onion in a thick sauce with lentils, sweet, sour & slightly hot. Garnished with lemon
£8.95
Dhansak Prawn
Cooked with onion in a thick sauce with lentils, sweet, sour & slightly hot. Garnished with lemon
£7.95
Dhansak King Prawn
Cooked with onion in a thick sauce with lentils, sweet, sour & slightly hot. Garnished with lemon
£9.50
Dhansak Fish
Cooked with onion in a thick sauce with lentils, sweet, sour & slightly hot. Garnished with lemon
£7.95
Dhansak Vegetable
Cooked with onion in a thick sauce with lentils, sweet, sour & slightly hot. Garnished with lemon
£6.95
Pathia Chicken
Cooked with onion and tomatoes in a thick sauce, sweet, sour & slightly hot. Garnished with cucumber
£7.50
Pathia Lamb
Cooked with onion and tomatoes in a thick sauce, sweet, sour & slightly hot. Garnished with cucumber
£7.95
Pathia Chicken Tikka
Cooked with onion and tomatoes in a thick sauce, sweet, sour & slightly hot. Garnished with cucumber
£7.95
Pathia Lamb Tikka
Cooked with onion and tomatoes in a thick sauce, sweet, sour & slightly hot. Garnished with cucumber
£8.95
Pathia Prawn
Cooked with onion and tomatoes in a thick sauce, sweet, sour & slightly hot. Garnished with cucumber
£7.95
Pathia King Prawn
Cooked with onion and tomatoes in a thick sauce, sweet, sour & slightly hot. Garnished with cucumber
£9.50
Pathia Fish
Cooked with onion and tomatoes in a thick sauce, sweet, sour & slightly hot. Garnished with cucumber
£7.95
Pathia Vegetable
Cooked with onion and tomatoes in a thick sauce, sweet, sour & slightly hot. Garnished with cucumber
£6.95
Madras Chicken
Hot dish, cooked in a hot & juicy sauce with fresh green herbs & spices
£7.50
Madras Lamb
Hot dish, cooked in a hot & juicy sauce with fresh green herbs & spices
£7.95
Madras Chicken Tikka
Hot dish, cooked in a hot & juicy sauce with fresh green herbs & spices
£7.95
Madras Lamb Tikka
Hot dish, cooked in a hot & juicy sauce with fresh green herbs & spices
£8.95
Madras Prawn
Hot dish, cooked in a hot & juicy sauce with fresh green herbs & spices
£7.95
Madras King Prawn
Hot dish, cooked in a hot & juicy sauce with fresh green herbs & spices
£9.50
Madras Fish
Hot dish, cooked in a hot & juicy sauce with fresh green herbs & spices
£7.95
Madras Vegetable
Hot dish, cooked in a hot & juicy sauce with fresh green herbs & spices
£6.95
Vindaloo Chicken
A very hot dish cooked with fresh herbs & spices, coriander & potato
£7.50
Vindaloo Lamb
A very hot dish cooked with fresh herbs & spices, coriander & potato
£7.95
Vindaloo Chicken Tikka
A very hot dish cooked with fresh herbs & spices, coriander & potato
£7.95
Vindaloo Lamb Tikka
A very hot dish cooked with fresh herbs & spices, coriander & potato
£8.95
Vindaloo Prawn
A very hot dish cooked with fresh herbs & spices, coriander & potato
£7.95
Vindaloo King Prawn
A very hot dish cooked with fresh herbs & spices, coriander & potato
£9.50
Vindaloo Fish
A very hot dish cooked with fresh herbs & spices, coriander & potato
£7.95
Vindaloo Vegetable
A very hot dish cooked with fresh herbs & spices, coriander & potato
£6.95
Phall Chicken
Extremely hot
£7.50
Phall Chicken Tikka
Extremely hot
£7.95
Phall Lamb Tikka
Extremely hot
£8.95
Phall Prawn
Extremely hot
£7.95
Phall King Prawn
Extremely hot
£9.50
Phall Vegetable
Extremely hot
£6.95
Aam Achari
Medium hot speciality in thick rich sauce cooked with Indian mango pickle mixed with Indian herbs & spices
£9.50
Ashoka Ajooba
Strong zingy curry with mustard sauce, fresh ginger & fresh coriander
£9.50
Badami Mixed Masala
Marinated pieces of chicken, lamb & tandoori chicken in a rich sauce, cooked with mild spices & peanut butter
£9.95
Kata Masala Meat
Marinated pieces of meat OR king prawn cooked with onions, ginger, garlic & garam masala spice in a thick rich sauce
£9.50
Kata Masala King Prawn
Marinated pieces of meat OR king prawn cooked with onions, ginger, garlic & garam masala spice in a thick rich sauce
£9.50
Kohinoor Korma
Sweet mild special dish. Cooked with almonds, coconut milk & lychees
£9.50
Mirchi Methi
Fairly hot dish, cooked in fenugreek herbs & fresh chillies
£9.50
Moorug Makhani
Also known as butter chicken, marinated pieces of meat cooked in a mild spicy butter sauce
£9.50
Butter Chicken
Cooked with butter in a rich creamy almond sauce
£9.50
Butter Lamb
Cooked with butter in a rich creamy almond sauce
£9.50
Persian Pilau
Succulent pieces of stripped tandoori chicken & minced lamb cooked with aromatic basmati rice, special spices, topped with fried red onions. Served with vegetable curry side dish
£9.95
Raz Rezala Meat
Fairly hot house special. Marinated meat OR king prawn cooked in a mix of spices & topped with saag
£9.50
Raz Rezala King Prawn
Fairly hot house special. Marinated meat OR king prawn cooked in a mix of spices & topped with saag
£9.50
Royal Bengal Fish
Hot house special. Marinated fish OR king prawn shallow fried in spices then cooked in a rich sauce, with a generous amount of ground & whole dried chilli, garnished with coriander
£9.50
Royal Bengal King Prawn
Hot house special. Marinated fish OR king prawn shallow fried in spices then cooked in a rich sauce, with a generous amount of ground & whole dried chilli, garnished with coriander
£9.50
Paneer Korai
Indian cheese cooked in fairly hot thick sauce, with onions, tomatoes, green peppers & fresh coriander
£9.50
Machli Jhool
Filled of salmon cooked with green pepper, onion, garlic & lightly spices & herbs
£9.95
Lamb Rezala Hot
Hot & sweet cooked with coconut milk, cashew nut, pistachio & almond
£9.50
Shathkora Chicken
With Shatkora (A type of lime only found in Sylhet) cooked with fresh spices
£9.50
Shathkora Lamb
With Shatkora (A type of lime only found in Sylhet) cooked with fresh spices
£9.50
Amborkhana Chicken
Cooked in an aromatic spicy mango sauce with almond & cream
£9.50
Amborkhana Lamb
Cooked in an aromatic spicy mango sauce with almond & cream
£9.50
Murgh Bhazzan
Strips of chicken breast cooked with onions, garlic & pimento, served in a medium spicy, thick sauce & garnished with tomatoes & coriander
£9.50
King Prawn Bhazzan
Fresh king prawns sliced & cooked with onions, garlic, pimento & peppers, garnished with tomato & extra coriander
£10.95
Garlic Shaslick Chicken
Chicken, lamb skewered with onion and capsicums, marinated in a spicy garlic sauce. Cooked in a tandoori oven & served on a plate with pilau rice & a green salad
£9.95
Garlic Shaslick Lamb
Chicken, lamb skewered with onion and capsicums, marinated in a spicy garlic sauce. Cooked in a tandoori oven & served on a plate with pilau rice & a green salad
£9.95
Set Meal for 1 (Non Veg)
Popadom & onion salad
Chicken tikka starter OR sheek kebab
Chicken tikka masala OR lamb bhuna
Sag aloo OR mushroom bhaji
Pilau rice OR plain naan
£12.95
Set Meal for 1 (Veg)
Popadom & onion salad
Vegetable samosa OR onion bhaji
Vegetable masala OR vegetable bhuna
Saag aloo OR mushroom bhaji
Pilau rice OR plain naan
£11.95
Biryani Chicken
Basmati rice cooked with meat OR vegetable. Served with vegetable curry & poppadom
£7.95
Biryani Chicken Tikka
Basmati rice cooked with meat OR vegetable. Served with vegetable curry & poppadom
£8.95
Biryani Fish
Basmati rice cooked with meat OR vegetable. Served with vegetable curry & poppadom
£8.95
Biryani King Prawn
Basmati rice cooked with meat OR vegetable. Served with vegetable curry & poppadom
£10.95
Biryani Lamb
Basmati rice cooked with meat OR vegetable. Served with vegetable curry & poppadom
£8.95
Biryani Lamb Tikka
Basmati rice cooked with meat OR vegetable. Served with vegetable curry & poppadom
£9.50
Biryani Mixed Vegetable
Basmati rice cooked with meat OR vegetable. Served with vegetable curry & poppadom
£7.95
Biryani Prawn
Basmati rice cooked with meat OR vegetable. Served with vegetable curry & poppadom
£8.95
Tandoori King Prawn Starter
£5.50
Tandoori Chicken Starter (On the Bone)
£3.95
Masala Chicken Tikka
Marinated pieces of meat in a creamy sauce. Mildly spiced & orange-red in colour. Served with pilau rice & poppadom
£8.95
Masala Fish
Marinated pieces of meat in a creamy sauce. Mildly spiced & orange-red in colour. Served with pilau rice & poppadom
£8.95
Masala King Prawn
Marinated pieces of meat in a creamy sauce. Mildly spiced & orange-red in colour. Served with pilau rice & poppadom
£9.95
Masala Lamb Tikka
Marinated pieces of meat in a creamy sauce. Mildly spiced & orange-red in colour. Served with pilau rice & poppadom
£9.50
Masala Mixed Vegetable
Marinated pieces of meat in a creamy sauce. Mildly spiced & orange-red in colour. Served with pilau rice & poppadom
£7.95
Masala Prawn
Marinated pieces of meat in a creamy sauce. Mildly spiced & orange-red in colour. Served with pilau rice & poppadom
£8.95
Pasanda Chicken Tikka
Marinated pieces of meat cooked with coconut, almond in a rich creamy mild sauce. Served with pilau rice & poppadom
£8.95
Pasanda Fish
Marinated pieces of meat cooked with coconut, almond in a rich creamy mild sauce. Served with pilau rice & poppadom
£8.95
Pasanda King Prawn
Marinated pieces of meat cooked with coconut, almond in a rich creamy mild sauce. Served with pilau rice & poppadom
£9.95
Pasanda Lamb Tikka
Marinated pieces of meat cooked with coconut, almond in a rich creamy mild sauce. Served with pilau rice & poppadom
£9.50
Pasanda Mixed Vegetable
Marinated pieces of meat cooked with coconut, almond in a rich creamy mild sauce. Served with pilau rice & poppadom
£7.95
Pasanda Prawn
Marinated pieces of meat cooked with coconut, almond in a rich creamy mild sauce. Served with pilau rice & poppadom
£8.95
Contact Us
Find Us
5 Montefiore Road, Hove, BN31RD
We deliver to
BN1, BN2, BN3, BN41