About Us
Spice Merchant is a Indian takeaway in Hove. Why don't you try our Sauces or Garlic Chilli Bazan Masala?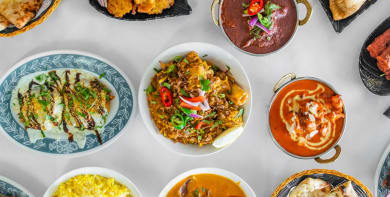 Reviews
474 reviews
Laura
"Great food and plenty of it."
07/07/2020
Michael
"Really good food as usual but the driver needs to be reminded that delivery should be contactless. Put the bag down and step back!"
06/07/2020
Glen
"the food is great one of the best in Brighton and hove"
06/07/2020
Tom
"Great food and great service and very good price"
30/06/2020
Menu
Tandoori Mixed Grill
Served with plain naan
£10.95
Garlic Ginger Tikka Balti
£8.95
Garlic Chilli Tikka Balti
£8.95
Garlic Chilli Mossalla Balti
£8.95
Tandoori Mixed Grilled Balti
£10.95
Spice Merchant Chef's Special Balti
Cooked with chef's own special secret recipe. Leave it to our experienced chef
£10.95
Tikka Naga Chicken
Madras hot
£8.95
Tikka Naga Lamb
Madras hot
£8.95
Mango Chicken Tikka Mossalla
£8.95
Mango Chicken Tikka Passanda
£8.95
Garlic Chilli Mossalla Chicken
Madras hot
£8.95
Garlic Chilli Mossalla Lamb
Madras hot
£8.95
Garlic Chilli Bazan Mossalla
£8.95
Garlic Chicken Tikka Bhuna
£8.95
Garlic Ginger Chicken Tikka Jalfry
£8.95
Curry Chicken
Medium spice, saucy dish with fresh green herbs & spices
£7.50
Curry Lamb
Medium spice, saucy dish with fresh green herbs & spices
£7.95
Curry Chicken Tikka
Medium spice, saucy dish with fresh green herbs & spices
£7.95
Curry Lamb Tikka
Medium spice, saucy dish with fresh green herbs & spices
£8.95
Curry Prawn
Medium spice, saucy dish with fresh green herbs & spices
£7.95
Curry King Prawn
Medium spice, saucy dish with fresh green herbs & spices
£9.50
Curry Fish
Medium spice, saucy dish with fresh green herbs & spices
£7.95
Curry Vegetable
Medium spice, saucy dish with fresh green herbs & spices
£6.95
Bhuna Chicken
A tasty dish cooked with slices of onion, spices & garnished with fresh tomato
£7.50
Bhuna Lamb
A tasty dish cooked with slices of onion, spices & garnished with fresh tomato
£7.95
Bhuna Chicken Tikka
A tasty dish cooked with slices of onion, spices & garnished with fresh tomato
£7.95
Bhuna Lamb Tikka
A tasty dish cooked with slices of onion, spices & garnished with fresh tomato
£8.95
Bhuna Prawn
A tasty dish cooked with slices of onion, spices & garnished with fresh tomato
£7.95
Bhuna King Prawn
A tasty dish cooked with slices of onion, spices & garnished with fresh tomato
£9.50
Bhuna Fish
A tasty dish cooked with slices of onion, spices & garnished with fresh tomato
£7.95
Bhuna Vegetable
A tasty dish cooked with slices of onion, spices & garnished with fresh tomato
£6.95
Dopiaza Chicken
Fresh, well seasoned onions cooked with spices to produce a rich, medium hot taste
£7.50
Dopiaza Lamb
Fresh, well seasoned onions cooked with spices to produce a rich, medium hot taste
£7.95
Dopiaza Chicken Tikka
Fresh, well seasoned onions cooked with spices to produce a rich, medium hot taste
£7.95
Dopiaza Lamb Tikka
Fresh, well seasoned onions cooked with spices to produce a rich, medium hot taste
£8.95
Dopiaza Prawn
Fresh, well seasoned onions cooked with spices to produce a rich, medium hot taste
£7.95
Dopiaza King Prawn
Fresh, well seasoned onions cooked with spices to produce a rich, medium hot taste
£9.50
Dopiaza Fish
Fresh, well seasoned onions cooked with spices to produce a rich, medium hot taste
£7.95
Dopiaza Vegetable
Fresh, well seasoned onions cooked with spices to produce a rich, medium hot taste
£6.95
Ceylon Chicken
A fairly spicy, hot dish cooked with coconut, coriander & coconut milk & cream
£7.50
Ceylon Lamb
A fairly spicy, hot dish cooked with coconut, coriander & coconut milk & cream
£7.95
Ceylon Chicken Tikka
A fairly spicy, hot dish cooked with coconut, coriander & coconut milk & cream
£7.95
Ceylon Lamb Tikka
A fairly spicy, hot dish cooked with coconut, coriander & coconut milk & cream
£8.95
Ceylon Prawn
A fairly spicy, hot dish cooked with coconut, coriander & coconut milk & cream
£7.95
Ceylon King Prawn
A fairly spicy, hot dish cooked with coconut, coriander & coconut milk & cream
£9.50
Ceylon Fish
A fairly spicy, hot dish cooked with coconut, coriander & coconut milk & cream
£7.95
Ceylon Vegetable
A fairly spicy, hot dish cooked with coconut, coriander & coconut milk & cream
£6.95
Korma Chicken
Mild, sweet & creamy, made with subtle spices
£7.50
Korma Lamb
Mild, sweet & creamy, made with subtle spices
£7.95
Korma Chicken Tikka
Mild, sweet & creamy, made with subtle spices
£7.95
Korma Lamb Tikka
Mild, sweet & creamy, made with subtle spices
£8.95
Korma Prawn
Mild, sweet & creamy, made with subtle spices
£7.95
Korma King Prawn
Mild, sweet & creamy, made with subtle spices
£9.50
Korma Fish
Mild, sweet & creamy, made with subtle spices
£7.95
Korma Vegetable
Mild, sweet & creamy, made with subtle spices
£6.95
Malayan Chicken
Mild, sweet & creamy dish, made with subtle spices, coconut, pineapple & coconut milk & cream
£7.50
Malayan Lamb
Mild, sweet & creamy dish, made with subtle spices, coconut, pineapple & coconut milk & cream
£7.95
Malayan Chicken Tikka
Mild, sweet & creamy dish, made with subtle spices, coconut, pineapple & coconut milk & cream
£7.95
Malayan Lamb Tikka
Mild, sweet & creamy dish, made with subtle spices, coconut, pineapple & coconut milk & cream
£8.95
Malayan Prawn
Mild, sweet & creamy dish, made with subtle spices, coconut, pineapple & coconut milk & cream
£7.95
Malayan King Prawn
Mild, sweet & creamy dish, made with subtle spices, coconut, pineapple & coconut milk & cream
£9.50
Malayan Fish
Mild, sweet & creamy dish, made with subtle spices, coconut, pineapple & coconut milk & cream
£7.95
Malayan Vegetable
Mild, sweet & creamy dish, made with subtle spices, coconut, pineapple & coconut milk & cream
£6.95
Kashmiri Chicken
Mild, prepared with coconut, fresh cream & fruit mix
£7.50
Kashmiri Lamb
Mild, prepared with coconut, fresh cream & fruit mix
£7.95
Kashmiri Chicken Tikka
Mild, prepared with coconut, fresh cream & fruit mix
£7.95
Kashmiri Lamb Tikka
Mild, prepared with coconut, fresh cream & fruit mix
£8.95
Kashmiri Prawn
Mild, prepared with coconut, fresh cream & fruit mix
£7.95
Kashmiri King Prawn
Mild, prepared with coconut, fresh cream & fruit mix
£9.50
Kashmiri Fish
Mild, prepared with coconut, fresh cream & fruit mix
£7.95
Kashmiri Vegetable
Mild, prepared with coconut, fresh cream & fruit mix
£6.95
Rogan Chicken
Prepared using pimento & garlic, garnished with tomatoes & green pepper. Medium spices & saucy
£7.50
Rogan Lamb
Prepared using pimento & garlic, garnished with tomatoes & green pepper. Medium spices & saucy
£7.95
Rogan Chicken Tikka
Prepared using pimento & garlic, garnished with tomatoes & green pepper. Medium spices & saucy
£7.95
Rogan Lamb Tikka
Prepared using pimento & garlic, garnished with tomatoes & green pepper. Medium spices & saucy
£8.95
Rogan Prawn
Prepared using pimento & garlic, garnished with tomatoes & green pepper. Medium spices & saucy
£7.95
Rogan King Prawn
Prepared using pimento & garlic, garnished with tomatoes & green pepper. Medium spices & saucy
£9.50
Rogan Fish
Prepared using pimento & garlic, garnished with tomatoes & green pepper. Medium spices & saucy
£7.95
Rogan Vegetable
Prepared using pimento & garlic, garnished with tomatoes & green pepper. Medium spices & saucy
£6.95
Dhansak Chicken
Cooked with onion in a thick sauce with lentils, sweet, sour & slightly hot. Garnished with lemon
£7.50
Dhansak Lamb
Cooked with onion in a thick sauce with lentils, sweet, sour & slightly hot. Garnished with lemon
£7.95
Dhansak Chicken Tikka
Cooked with onion in a thick sauce with lentils, sweet, sour & slightly hot. Garnished with lemon
£7.95
Dhansak Lamb Tikka
Cooked with onion in a thick sauce with lentils, sweet, sour & slightly hot. Garnished with lemon
£8.95
Dhansak Prawn
Cooked with onion in a thick sauce with lentils, sweet, sour & slightly hot. Garnished with lemon
£7.95
Dhansak King Prawn
Cooked with onion in a thick sauce with lentils, sweet, sour & slightly hot. Garnished with lemon
£9.50
Dhansak Fish
Cooked with onion in a thick sauce with lentils, sweet, sour & slightly hot. Garnished with lemon
£7.95
Dhansak Vegetable
Cooked with onion in a thick sauce with lentils, sweet, sour & slightly hot. Garnished with lemon
£6.95
Pathia Chicken
Cooked with onion and tomatoes in a thick sauce, sweet, sour & slightly hot. Garnished with cucumber
£7.50
Pathia Lamb
Cooked with onion and tomatoes in a thick sauce, sweet, sour & slightly hot. Garnished with cucumber
£7.95
Pathia Chicken Tikka
Cooked with onion and tomatoes in a thick sauce, sweet, sour & slightly hot. Garnished with cucumber
£7.95
Pathia Lamb Tikka
Cooked with onion and tomatoes in a thick sauce, sweet, sour & slightly hot. Garnished with cucumber
£8.95
Pathia Prawn
Cooked with onion and tomatoes in a thick sauce, sweet, sour & slightly hot. Garnished with cucumber
£7.95
Pathia King Prawn
Cooked with onion and tomatoes in a thick sauce, sweet, sour & slightly hot. Garnished with cucumber
£9.50
Pathia Fish
Cooked with onion and tomatoes in a thick sauce, sweet, sour & slightly hot. Garnished with cucumber
£7.95
Pathia Vegetable
Cooked with onion and tomatoes in a thick sauce, sweet, sour & slightly hot. Garnished with cucumber
£6.95
Madras Chicken
Hot dish, cooked in a hot & juicy sauce with fresh green herbs & spices
£7.50
Madras Lamb
Hot dish, cooked in a hot & juicy sauce with fresh green herbs & spices
£7.95
Madras Chicken Tikka
Hot dish, cooked in a hot & juicy sauce with fresh green herbs & spices
£7.95
Madras Lamb Tikka
Hot dish, cooked in a hot & juicy sauce with fresh green herbs & spices
£8.95
Madras Prawn
Hot dish, cooked in a hot & juicy sauce with fresh green herbs & spices
£7.95
Madras King Prawn
Hot dish, cooked in a hot & juicy sauce with fresh green herbs & spices
£9.50
Madras Fish
Hot dish, cooked in a hot & juicy sauce with fresh green herbs & spices
£7.95
Madras Vegetable
Hot dish, cooked in a hot & juicy sauce with fresh green herbs & spices
£6.95
Vindaloo Chicken
A very hot dish cooked with fresh herbs & spices, coriander & potato
£7.50
Vindaloo Lamb
A very hot dish cooked with fresh herbs & spices, coriander & potato
£7.95
Vindaloo Chicken Tikka
A very hot dish cooked with fresh herbs & spices, coriander & potato
£7.95
Vindaloo Lamb Tikka
A very hot dish cooked with fresh herbs & spices, coriander & potato
£8.95
Vindaloo Prawn
A very hot dish cooked with fresh herbs & spices, coriander & potato
£7.95
Vindaloo King Prawn
A very hot dish cooked with fresh herbs & spices, coriander & potato
£9.50
Vindaloo Fish
A very hot dish cooked with fresh herbs & spices, coriander & potato
£7.95
Vindaloo Vegetable
A very hot dish cooked with fresh herbs & spices, coriander & potato
£6.95
Phall Chicken
Extremely hot
£7.50
Phall Chicken Tikka
Extremely hot
£7.95
Phall Lamb Tikka
Extremely hot
£8.95
Phall Prawn
Extremely hot
£7.95
Phall King Prawn
Extremely hot
£9.50
Phall Vegetable
Extremely hot
£6.95
Aam Achari
Medium hot speciality in thick rich sauce cooked with Indian mango pickle mixed with Indian herbs & spices
£9.50
Ashoka Ajooba
Strong zingy curry with mustard sauce, fresh ginger & fresh coriander
£9.50
Badami Mixed Masala
Marinated pieces of chicken, lamb & tandoori chicken in a rich sauce, cooked with mild spices & peanut butter
£9.95
Kata Masala Meat
Marinated pieces of meat OR king prawn cooked with onions, ginger, garlic & garam masala spice in a thick rich sauce
£9.50
Kata Masala King Prawn
Marinated pieces of meat OR king prawn cooked with onions, ginger, garlic & garam masala spice in a thick rich sauce
£9.50
Kohinoor Korma
Sweet mild special dish. Cooked with almonds, coconut milk & lychees
£9.50
Mirchi Methi
Fairly hot dish, cooked in fenugreek herbs & fresh chillies
£9.50
Moorug Makhani
Also known as butter chicken, marinated pieces of meat cooked in a mild spicy butter sauce
£9.50
Butter Chicken
Cooked with butter in a rich creamy almond sauce
£9.50
Butter Lamb
Cooked with butter in a rich creamy almond sauce
£9.50
Persian Pilau
Succulent pieces of stripped tandoori chicken & minced lamb cooked with aromatic basmati rice, special spices, topped with fried red onions. Served with vegetable curry side dish
£9.95
Raz Rezala Meat
Fairly hot house special. Marinated meat OR king prawn cooked in a mix of spices & topped with saag
£9.50
Raz Rezala King Prawn
Fairly hot house special. Marinated meat OR king prawn cooked in a mix of spices & topped with saag
£9.50
Royal Bengal Fish
Hot house special. Marinated fish OR king prawn shallow fried in spices then cooked in a rich sauce, with a generous amount of ground & whole dried chilli, garnished with coriander
£9.50
Royal Bengal King Prawn
Hot house special. Marinated fish OR king prawn shallow fried in spices then cooked in a rich sauce, with a generous amount of ground & whole dried chilli, garnished with coriander
£9.50
Paneer Korai
Indian cheese cooked in fairly hot thick sauce, with onions, tomatoes, green peppers & fresh coriander
£9.50
Machli Jhool
Filled of salmon cooked with green pepper, onion, garlic & lightly spices & herbs
£9.95
Lamb Rezala Hot
Hot & sweet cooked with coconut milk, cashew nut, pistachio & almond
£9.50
Shathkora Chicken
With Shatkora (A type of lime only found in Sylhet) cooked with fresh spices
£9.50
Shathkora Lamb
With Shatkora (A type of lime only found in Sylhet) cooked with fresh spices
£9.50
Amborkhana Chicken
Cooked in an aromatic spicy mango sauce with almond & cream
£9.50
Amborkhana Lamb
Cooked in an aromatic spicy mango sauce with almond & cream
£9.50
Murgh Bhazzan
Strips of chicken breast cooked with onions, garlic & pimento, served in a medium spicy, thick sauce & garnished with tomatoes & coriander
£9.50
King Prawn Bhazzan
Fresh king prawns sliced & cooked with onions, garlic, pimento & peppers, garnished with tomato & extra coriander
£10.95
Garlic Shaslick Chicken
Chicken, lamb skewered with onion and capsicums, marinated in a spicy garlic sauce. Cooked in a tandoori oven & served on a plate with pilau rice & a green salad
£9.95
Garlic Shaslick Lamb
Chicken, lamb skewered with onion and capsicums, marinated in a spicy garlic sauce. Cooked in a tandoori oven & served on a plate with pilau rice & a green salad
£9.95
Set Meal for 1 (Non Veg)
Popadom & onion salad
Chicken tikka starter OR sheek kebab
Chicken tikka masala OR lamb bhuna
Sag aloo OR mushroom bhaji
Pilau rice OR plain naan
£12.95
Set Meal for 1 (Veg)
Popadom & onion salad
Vegetable samosa OR onion bhaji
Vegetable masala OR vegetable bhuna
Saag aloo OR mushroom bhaji
Pilau rice OR plain naan
£11.95
Biryani Chicken
Basmati rice cooked with meat OR vegetable. Served with vegetable curry & poppadom
£7.95
Biryani Chicken Tikka
Basmati rice cooked with meat OR vegetable. Served with vegetable curry & poppadom
£8.95
Biryani Fish
Basmati rice cooked with meat OR vegetable. Served with vegetable curry & poppadom
£8.95
Biryani King Prawn
Basmati rice cooked with meat OR vegetable. Served with vegetable curry & poppadom
£10.95
Biryani Lamb
Basmati rice cooked with meat OR vegetable. Served with vegetable curry & poppadom
£8.95
Biryani Lamb Tikka
Basmati rice cooked with meat OR vegetable. Served with vegetable curry & poppadom
£9.50
Biryani Mixed Vegetable
Basmati rice cooked with meat OR vegetable. Served with vegetable curry & poppadom
£7.95
Biryani Prawn
Basmati rice cooked with meat OR vegetable. Served with vegetable curry & poppadom
£8.95
Tandoori King Prawn Starter
£5.50
Tandoori Chicken Starter (On the Bone)
£3.95
Masala Chicken Tikka
Marinated pieces of meat in a creamy sauce. Mildly spiced & orange-red in colour. Served with pilau rice & poppadom
£8.95
Masala Fish
Marinated pieces of meat in a creamy sauce. Mildly spiced & orange-red in colour. Served with pilau rice & poppadom
£8.95
Masala King Prawn
Marinated pieces of meat in a creamy sauce. Mildly spiced & orange-red in colour. Served with pilau rice & poppadom
£9.95
Masala Lamb Tikka
Marinated pieces of meat in a creamy sauce. Mildly spiced & orange-red in colour. Served with pilau rice & poppadom
£9.50
Masala Mixed Vegetable
Marinated pieces of meat in a creamy sauce. Mildly spiced & orange-red in colour. Served with pilau rice & poppadom
£7.95
Masala Prawn
Marinated pieces of meat in a creamy sauce. Mildly spiced & orange-red in colour. Served with pilau rice & poppadom
£8.95
Pasanda Chicken Tikka
Marinated pieces of meat cooked with coconut, almond in a rich creamy mild sauce. Served with pilau rice & poppadom
£8.95
Pasanda Fish
Marinated pieces of meat cooked with coconut, almond in a rich creamy mild sauce. Served with pilau rice & poppadom
£8.95
Pasanda King Prawn
Marinated pieces of meat cooked with coconut, almond in a rich creamy mild sauce. Served with pilau rice & poppadom
£9.95
Pasanda Lamb Tikka
Marinated pieces of meat cooked with coconut, almond in a rich creamy mild sauce. Served with pilau rice & poppadom
£9.50
Pasanda Mixed Vegetable
Marinated pieces of meat cooked with coconut, almond in a rich creamy mild sauce. Served with pilau rice & poppadom
£7.95
Pasanda Prawn
Marinated pieces of meat cooked with coconut, almond in a rich creamy mild sauce. Served with pilau rice & poppadom
£8.95
Contact Us
Find Us
5 Montefiore Road, Hove, BN31RD
We deliver to
BN1, BN2, BN3, BN41